WINTER SNACKS
Need something you can whip up for guests in a hurry? At our house we've been making popcorn using Braggadocio Organic Popcorn (grown in Missouri) and seasoning it with Billy Goat All Purpose Seasoning.  It is so easy to make and the spice from the folks behind Billy Goat Chips is a spunky addition. They also have the Kicker addition if you want a little heat.  Another tip is to pop the popcorn in coconut oil. It's light and can handle high temperature cooking.
HOLIDAY GIFT BASKETS
We have a great selection of gift baskets available this year. Check our link for descriptions https://squareup.com/market/local-harvest  For larger orders (over 5) please give us 5-7 days to fill the order. Delivery available.
We can make your gift giving easy and LOCAL.
TURKEY TIME- Orders due by Nov. 21!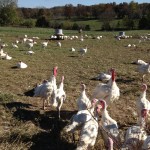 It is time for Thanksgiving turkey pre-orders.  This year we are doing things a little differently. Please read the information carefully. And, this year you can pre-order your turkey on-line or in the store.
Buttonwood Farm Turkeys, California, MO
Type of Turkey: Broad Breasted White Turkeys that are currently ranging outside at Buttonwood Farms. The birds are raised on pasture and are fed a non-medicated, natural feed and forage.
Cost: $4.29lb
Size options:  17-19lbs or 22-24lbs
When you sign up, you will need to choose either 17-19 lb or 22-24lb. We cannot guarantee that size range absolutely, but will do our best to accommodate your choice.
(Note about turkey size: These turkeys are raised outside with access to forage and feed. They are sold fresh so it is more difficult to control the exact weight of the birds since the date of processing is preset. It makes Thanksgiving that much more exciting. )
Deposit: $10 + tax deposit required to reserve your turkey.
Pick-up times: Pick up will be Tuesday, Nov. 25th. Time is TBD, but customers will be alerted as to pick up times.
TURKEY BREAST
If a whole turkey is too much, we have been able to add a sign up for fresh turkey breasts from Buttonwood Farms. Limited number.
Here's the info:
Size: Single breast 3-4lbs, double breast 6-8lbs
Cost: $7.99lb
TRUFFLE ORDERS:
It is very rare that we promote a product from far, far, away. But this year we thought it would be fun to showcase a little Italian truffle decadence.
We are accepting pre-orders for the Alba (white) truffle from Italy.  This culinary gold is priced at $225.00 per ounce.  We are procuring it through one of our local farmers. Once it arrives, be prepared to use it right away.  Impromptu truffle party?  We will place the order once we have enough pre-orders to order by the pound. Your card will not be charged until we have enough orders. You will be notified when the order is placed.
To sign up call 314.865.5260
NOVEMBER CLASSES AND EVENTS (REGISTER ON-LINE)
https://squareup.com/market/local-harvest
One World Ice Cream vs Jeni's Ice Cream
Special taste testing event with One World Ice Cream
November 19, 6-8p.m.  $20 or $10 for members of the Ice Cream Social Club
Location: LHC, 3137 Morgan Ford Road
Register Here: https://www.bazaarboy.com/one-world-tasting1/
From the founder, Susan Spitz:
Jeni's Ice Cream, Columbus OH, is delicious, and she has many fans around the country. Rumor has it there will soon be a Jeni's shop in St. Louis. When we were getting started last February I was told, "if you can make ice cream as good as Jeni's, you'll be golden!" Turns out we have a lot of similar ideas. As we began formulating our flavors we discovered that she had many similar flavors in her recipe book, including a delicious "Creme sans lait" dairy free version that I have adapted.
So we are going to put it to the test. And you get to be our judges! Come to Local Harvest Cafe on Wednesday evening, November 19th, and let us know which you prefer. Either way, a delicious time will be had by all!
We'll also be introducing some new Holiday flavors which will be available for purchase (or order for later pickup) that night at a reduced cost.
 
Eating and Playing in Winter:  A Mom's Happy Hour
December 3, 6-8 p.m.  $10.00
Location: 3137 Morgan Ford Road
Amanda Doyle, St. Louis's very own cheerleader and best-selling author, joins Local Harvest owner and author, Maddie Earnest for a fun evening covering Winter Activities and Seasonal Eating for the whole family.  We'll give out recipes, do some sampling, learn about ways to keep active in winter and have a rip-roaring good time. Books will be available for sale from Amanda, Maddie and Julia Usher, author of Ultimate Cookies and Cookie Swap.  Alcoholic beverages from LHC will also be available for sale.
 
HOLIDAY HAPPENINGS ON MORGAN FORD
Grove Furnishings is hosting their Holiday Preview and Open House, Nov. 15-16. Stop by and check out this inviting neighborhood store for holiday decorations, gifts and of course home furnishings!
Our friends at London Tea Room invite everyone to their banquet room on Sunday, Nov.16, 11-5 for a holiday boutique with tea, candles, jewelry, hat-maker and other fun gift ideas. Pop-in these great Morgan Ford businesses before or after your grocery shopping this weekend.
&nb