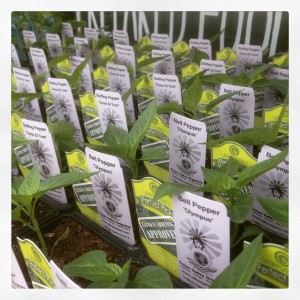 STORE CLOSED SATURDAY 1-4:00 for Memorial Service
We are closing for a few hours on Saturday, April 18, so that our staff may attend the memorial service for Anne Tkach. Thank you for your understanding
ORGANIC PLANT STARTS
Starts $2.99-3.99
It's planting time……and we've got beautiful organic starts from Crown Valley Organics and Biver Farms.
Cabbage, herbs, kale, lettuces, tomatoes, peppers and more.
NEW TO GARDENING, select one of the Perfect Picks. Gateway Greening selected 24 varieties that are perfect for our area and Crown Valley grew them. A portion of each sale of "Perfect Picks" goes to Gateway Greening.
KNIFE SHARPENING
Local Harvest Grocery is now a drop-off and pick-up point for Jansen Sharpening. Seth and Maria Jansen, owners of Jansen Sharpening, received individualized training from a professional sharpener in Chicago and are putting it to good use! Items dropped off by 3 p.m. Wed will be ready for pick-up after 3 p.m. on Saturday. You can also get on site sharpening every Saturday at the Tower Grove Farmers' Market.
Tips for knives:
• Keep them out of the dishwasher
• Use wood or soft plastic cutting boards instead of glass or other hard surfaces
• Between uses, straighten edges with a ceramic sharpening rod
• Store in a block or on a magnetic strip to prevent damage and to edge.
*They also sharpen machetes, mower blades, swords, pocket knives, scissors, glass clippers and loppers.
CLASSES
The Coffee Route: From Peru's Chilchos Valley to Local Harvest in St. Louis
Wednesday, April 22, 6-7:30, $5.00
Location: 3137 Morgan Ford Road, 63116
Presented by Rainer Bussmann, Ph.D, Director and Curator for Economic Botany, William L. Brown Center, Missouri Botanical Garden
Rainer Bussmann will introduce you to the Kuva Coffee collaboration and discuss the Chilchos Valley, its people and their environmentally sustainable coffee growing practices. Offered through the Academy of Science, St.Louis
Sign up: http://www.academyofsciencestl.org/event/coffee-route-perus-chilchos-valley-local-harvest-st-louis/ Registration is $5 per person. Open to ALL space is limited.
Plant Power—How to Incorporate more plant based foods into your diet
Presented by Kayli Dice, a plant-based dietician
May 12, 6-7:30, $15.00
Location: 3137 Morgan Ford Road,63116
Register: 314-865-5260
Join Kayli Dice, a plant-based dietician and recipe blogger at planteatersmanifesto.com to learn how to add more plant life to your diet. Learn the latest reaseach on plan-based nutrition, sample simple plant-based recipes,get a one week plant-based meal plan and see how easy more plants on your plate can be.