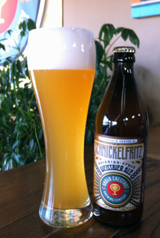 KNOW YOUR BEER
German Weissbier
A traditional wheat based ale originating in Southern Germany that is perfect for summer. German Weissbier is refreshing, lightly hopped and shows a unique banana and clove yeast character. Medium to light body with a slightly creamy texture from the wheat and yeast balanced with a slight fruity tartness and high carbonation.
Pairing suggestions: Salads, mild cheeses, Volpi sausages, Geisert ham sausage.
When to drink: Refreshing on hot summer days.
At Local Harvest Grocery:
Weihenstephaner Hefeweizen
Kapuziner Hefeweizen
Urban Chestnut Schnickelfritz
SUMMER PRODUCE
Cantaloupes
The first cantaloupes of summer are arriving. The mild temper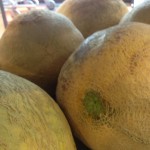 atures mean a later than usual crop of melons.  Cantaloupes have a lot of great health benefits as well as a refreshing summer fruit that can be made into soup, smoothies, grilled or eaten raw.
Cantaloupe is a great source of  Beta Carotene, Vitamin C and A (Vitamin A can promote healthy lungs). Cantaloupe is also rich in potassium which normalizes the heartbeat and promotes the supply of oxygen to the brain. This can leave you feeling relaxed.
GARDEN SPOTLIGHT
As many of  you know, we have a Seed Library at the store that we operate in conjunction with the Tower Grove Farmer's Market. If you'd like to save seeds to bring to the library, here are some tips from Becca, our seed saving guru.
If you are saving seeds from cucumbers or squash, choose one of the largest fruits The seeds will be more likely to germinate. Squash and cucumber seeds can be some of the hardest to save "true" so you may want to grow one type at a time to contain cross pollination. 
CLASSES
We had a wonderful July for Local Harvest Classes. The mushroom hunt was especially fun and participants all left the woods with a bag full of chanterelles.  Many thanks to T.R. Davis of Earth Angel for showing us how to forage these tasty shrooms.
More than 30 people attended our field trip to Windcrest Dairy. Thanks to Kurt and crew at Windcrest Dairy for the hospitality and samples.
Due to popular demands and many requests, we will hold another FERMENTATION class August 26. See our Classes Tab for fall classes.