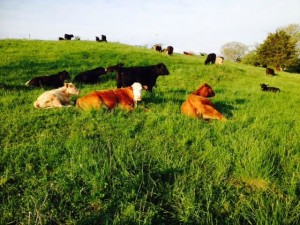 STEAK SALE—Grass-fed/grass-finished
Fire up the grill for this once a summer STEAK SALE (aka the Great Es-Steak Sale)
T-Bone, Sirloin, Porter House, KC, Filet Mignon, and Ribeye steaks are all 10% off through July 2nd!
Our beef is always grass-fed and grass finished. All cattle are grass-fed at some point, but what matters most from a nutrition stand point is what the cattle eat in the "finishing" stage. Our beef farmers consider themselves grass farmers, because the quality of the grasses they eat, lead to the quality of the finished beef.
We carry beef from:
Three Spring Farms, Perryville, MO
Neuner Farms, Westphalia, MO
TIPS FOR COOKING GRASS-FED STEAK
Season it:  Coat your steak in a rub like Uncle Joe's Rub Down or Captain Tony's Wild Alaskan Rub or make your own with coarse sea salt, cracked pepper and minced garlic.  Rub on both sides and let steak come to room temp.
Coat in oil: Because grass-fed beef is low in fat, you may want to coat your grill or pan with extra virgin olive oil or another light oil for easy browning. Some use oil to coat the beef to prevent the meat from drying out and sticking to the cooking surface.
Sear it: Sear your steak for two minutes on each side over high heat to lock in flavor
Cook it: Lower the heat or move steak away from the flame and cook for about tw0-five minutes on each side to a perfect medium rare (depends on thickness of the steak).  If measuring temperature, remove the steak when temp is at 125-130 degrees.  GRASS FED beef cooks about 30% faster than grain fed beef
Rest it:  Rest your steak for ten minutes after cooking before cutting into it. You might even want to tent aluminum foil over.
NEW PRODUCTS
4 Hands Passion Fruit Prussia  Check out this non-traditional Berliner Weiss style.  Brewed with loads of passion fruit, this beer has a tart finish and is great in the heat of summer.  If you like a little pucker, you'll love this offering from our friends at 4 Hands Brewing Co, St. Louis, MO.
Sonoma Cider—The Pitchfork  An organic cider from Healdsburg, CA that is brewed with organic U.S. grown apples and flavored with their proprietary pear flavor.  This cider offers a clean hard cider with a creamy pear finish.
Sonoma Cider—The Hatchet  This organic cider emphasizes the apple aromas and essence of apple resulting in a bright and complex fruit flavor.  The Hatchet is a clean, refreshing cider with a very lively finish.     
COMING SOON
We will be offering more classes on fermentation in the coming months. Check the newsletter and website for dates.