KNOW YOUR Rosé
Rosé wine is a type of wine that incorporates some of the color from the grape skins to alter the color, but not enough to qualify as a red wine. The "pink" color can range from a light orange to near purple depending on the variety of grape and technique of the wine maker. Typically the grape skins are in contact with the juice for 1-3 days and then removed. Skin contact is the primary method for producing rosé wine.
Rosé wines can be still, semi-sparkling, sparking and bone-dry to very sweet.
At Local Harvest Grocery:
Libalis Rose $4.99 SUPER SALE Floral, semi-sweet rose from La Rioja
La Closerie des Lys This French Rosé is made from a blend of Sirah, Grenache and Cinsault
Barrel 27 Shenanigans Made from a blend of  Grenache, Syrah and Mourvedre  This very floral rosé has a light strawberry flavor. Some tasters prefer this one served at room temp.
Sean Minor 4 Bears Pairs well with lighter fare such as salads, mushroom dishes, or  sipped on its own.  On the palette it has a nice strawberry note.
KNOW YOUR TOMATOES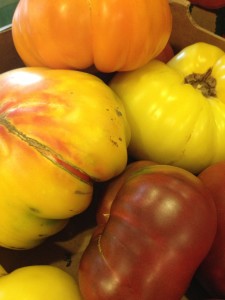 Heirlooms
Heirloom varieties are more and more prevalent at farmer's markets and also in Local Harvest Grocery. An heirloom tomato is open-pollinated and typically introduced before 1940 or has been in circulation for more than 50 years.  Heirlooms can also be "family" heirlooms meaning that the seeds have been passed through several generations in a family.
Why heirlooms matter?
Buying and growing heirloom varieties is a great way to preserve genetic diversity.  Much of our crop diversity has disappeared in order to have more commercially appealing tomatoes. Heirloom tomatoes often aren't perfectly shaped, but each heirloom offers its own unique flavor and characteristics.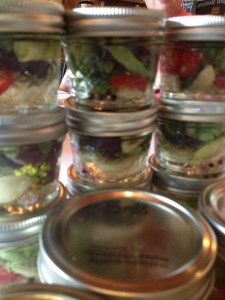 GARDEN SPOTLIGHT–Pickles!
Are you overflowing with cucumbers or hot peppers? Try our quick pickling recipe for an easy and tasty way to enjoy that bounty.
Yield: 3 pint jars
Prep time: 30-35 minutes
Equipment: 3 clean pint mason jars, non-reactive sauce pan
Ingredients:
pickling cucumbers (5 cucumbers for three jars) or
your choice hot pepper (30-40  for three jars)
2 cups distilled vinegar
1.5 cups water
4 teaspoons kosher salt
6-8 cloves garlic (mashed)
3-4 carrots (for pickled peppers) cut on an angle
4 tablespoons dill seeds (may want to use these only for the cucumbers) or fresh dill flowers
3 teaspoons whole black peppercorn
1. Add garlic, peppercorns, dill seeds (evenly distribute between jars)
2. Wash produce thoroughly.
3. Chop peppers into 1/4 inch rounds or cucumbers into spears that will fit into your jars (leave on peel)
4. If using carrots in the peppers, peel and cut on an angle.
5. Fill jars will the chopped vegetables.  For a spicier pickle, you might consider adding a couple jalapeno or cayenne slices to your cucumbers.
6. Make brine  by combining vinegar, water, and salt in a non-reactive sauce pan or pot. Bring to a boil and stir until all the salt is dissolved.
7. Pour the hot brine over the vegetables to within 1/4″ of the top. Wipe the jar top, put the lids on and tighten.  Age for 2 days in the refrigerator and then enjoy!
8. Use within three weeks.
9. Amaze your friends with your wicked pickling talents.