OZARK MOUNTAIN CREAMERY–CREAM
What to do with a ½ gallon of cream?
In case you didn't know, we sell ½ gallon glass bottles of cream from Ozark Mountain Creamery in Mountain Grove, MO. At $10.69 a bottle you get a lot of cream and, if you aren't squeamish about things, we have found that it lasts well beyond the sell by date.
Make Butter and buttermilk.
Use your food processor to make your own butter with a delicious buttermilk byproduct.  It will actually save you money and you feel like a rock star because you made your own butter. Personalize it for you or your family by adding herbs or honey. https://www.youtube.com/watch?feature=player_embedded&v=Nd6lTz-NlEI
Make Butter in a jar.  You get a work out, butter and buttermilk just by shaking a jar with cream for 4-5 minutes. Who needs the gym? There are lots of little videos online showing the process.
Use for creamy soups like butternut squash or pumpkin soups.   Here's a great recipe with all the tastes of fall.
http://food52.com/recipes/7333-butternut-apple-soup-with-maple-cream
Use in your coffee, tea or hot chocolate in place of milk or half and half.
Whip it in your blender, by hand or in a food processor and enjoy fresh whipped cream.  Add a touch of vanilla and sugar.
LOCAL PRODUCE
It's fall and local produce abounds. Here's what you can find at Local Harvest Grocery:
Apples (certified organic local and certified naturally grown), beets, broccoli, Brussels sprouts, cabbage, carrots, cauliflower, cucumbers, eggplant, garlic, kale, lettuce, mushrooms (organic, local and foraged) onions, peppers, potatoes (blue, gold,red, russet), radish, sprouts, sweet potatoes (including white sweets), squash (cushaw, butternut, pumpkins, spaghetti, sweet dumpling, delicata and acorn), tomatoes, turnips, yellow wax beans.
TURKEY TIME
It is time for Thanksgiving turkey pre-orders. This year we are doing things a little differently. Please read the information carefully. And, this year you can pre-order your turkey on-line or in the store.
Buttonwood Farm Turkeys, California, MO
Type of Turkey: Broad breasted White Turkeys that are currently ranging outside at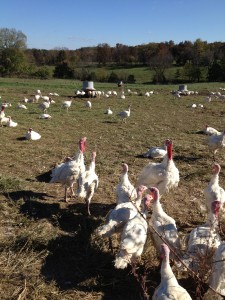 Buttonwood Farms. The birds are raised on pasture and are fed a non-medicated, natural feed and forage.
Cost: $4.29lb
Size options:  17-19lbs or 22-24lbs
When you sign up, you will need to choose either 17-19 lb or 22-24lb. We cannot guarantee that size range absolutely, but will do our best to accommodate your choice.
(Note about turkey size: These turkeys are raised outside with access to forage and feed. They are sold fresh so it is more difficult to control the exact weight of the birds since the date of processing is set for Thanksgiving time. It makes Thanksgiving that much more exciting. )
Deposit: $10 deposit required to reserve your turkey.
Pick-up times: These are TBD, but in past years, we've had pick up times as early as the Saturday before Thanksgiving and as late as the Tuesday before. We will be in touch via email with pick-up times as we get closer to the date
Three Spring Farms, Perryville, MO
Type of Turkey: Standard Bronze breed, which is listed as a heritage breed turkey.  They are raised on pasture with shade protection and moved to fresh grass daily.
Cost: $4.99lb
Size Options: There will a lot variation in size from 12-18lbs.  We cannot guarantee your size preference.  Heritage breeds typically are more slow-growing.
Availability: There are a limited number available.
Deposit:  $10 deposit to reserve your turkey.
Pick up times: Turkeys will be available the Tuesday before Thanksgiving.
OCTOBER/NOVEMBER CLASSES AND EVENTS (REGISTER ON-LINE)
To register for a class call 314.865.5260, sign up in store or use our SQUARE marketplace to register on-line.
"Entomophagy (the practice of eating insects)–it could be for you" Presented by Chris Hartley of the Sophia M Sachs Butterfly House November 4, 6-7:30, $10 Location: 3137 Morgan Ford Road Chris Hartley, Coordinator of Education at the Sophia M Sachs Butterfly House will explore insect foods from around the world through artifacts, pictures and a cooking demonstration.  Learn about an important protein source for roughly 75% of the human population that is not only one of the earliest food sources for many humans but also the most sustainable protein source for our planet.  Chris will also describe the practice of raising food-grade crickets and mealworms at home (They are called "meal" worms.) Come prepared to try some insects yourself.