GRASS-FED GROUND BEEF SALE $6.99lb
August 24-27
Grass-Fed Ground Beef Sale—Ground beef (all of our beef is 100% grass-fed/grass finished) $6.99lb.
Limit 3
FARMER FEATURE
THREE SPRING FARMS, Perryville, MO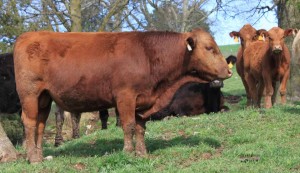 Question: What happens when you combine two young farmers with one farm-loving Thoracic Surgeon?
Answer: Grass -fed beef and eggs from pastured hens!
Okay, I know that answer wasn't an easy guess, but we at Local Harvest are pretty happy with it.
Since 2011, this unique team has grown a business that thrives on using sustainable practices to provide high quality grass-fed beef and pastured eggs. Dr. Bryan Meyers of Barnes-Jewish hospital partnered with Andrew and Jacob Bachmann to form Three Spring Farms. This union allows these three to each have a hand in the farming and the marketing. Andrew and Jacob live in Perryville and manage much of the day-to-day operations. With a dedication to sustainable land practices, they move their cattle daily-sometimes twice a day. This system mimics the grazing of wild buffalo herds (in days of yore) that sustained prairies; a process that is good for the animals and good for the land. Dr. Meyers estimates that it takes about 50 days to move the herd of 100 around the entire acreage. By the time the animals return to the starting point, the land is again ready for grazing.
Three Spring Farms raises primarily South Poll cows, which are of smaller stature and typically lighter in color to handle the hot Missouri sun. It takes 24 months to raise a cow to full weight on grass. They have a mostly closed herd which means they have bulls for breeding and maintain their herd from their own heifers.
Why Eat Grass-fed Beef
Higher concentration of Omega 3
People with higher omega-3s are less likely to have high blood pressure.  Omega-3s are formed in the chloroplasts of green leaves and can also be found abundantly in certain nuts, seeds, flaxseeds and walnuts.
Lower fat, and lower calorie
Higher CLA (conjugated linoleic acid) which is thought to be a defense against cancer.
- from eatWild (http://www.eatwild.com/healthbenefits.htm)
Animals are good for the farm. Raised with good practices, "herbivores do not require tillage or annuals and that is why all historically deep soils have been created by them, not by omnivores." -Joel Salatin,
Check out Joel Salatin's response to the "Myth of Sustainable Meat." A great article for discussion and the role that animals can play in farm sustainability.
http://grist.org/sustainable-farming/farmer-responds-to-the-new-york-times-re-sustainable-meat/
Heirloom Tomato Sale $3.49lb
Now-August 27
We've lowered our heirloom tomato prices just for you! Take this opportunity to enjoy a nice, juicy heirloom tomato. Heirlooms have a shorter shelf life and are known for their unique flavor profiles.
Serve with Marcoot Creamery fresh Mozzarella—made with milk from their own grass fed dairy herd!
What are heirlooms? 
Heirloom plant species are vegetables, flowers, and fruits grown from seeds that are passed down from generation to generation, says Barbara Richardson, horticulturist with the National Gardening Association. Heirloom seeds are open-pollinated, meaning they rely on natural pollination from insects or the wind. Generally, heirloom plants are grown on a small scale using traditional techniques, and are raised from seeds that are at least 50 years old. Over time, growers save the seeds of their best plants—whether those are the most vigorous, disease resistant, flavorful, or beautiful. With unique shapes, sizes, and colors, heirloom plants often look different from commercial hybrids, which make up the bulk of supermarket fruits and vegetables. Unlike heirlooms, these hybrids are bred to produce uniform-looking and tasting, high-yield crops at low cost. Most seeds from hybrids are sterile and cannot be passed down. Heirlooms have become increasingly popular as organizations like Slow Food and Seed Savers Exchange continue to promote the genetic diversity of plant species (from CHOW blog).
CLASSES           
How to Brew Kombucha
Learn what Kombucha is and how to make your own. We include information about how to do first and second ferments. Come prepared to sample! There will be cultures available for sale at the class at a discount.
August 26th, 6-7:30 p.m.
Local Harvest 3137 Morgan Ford, 63116
$15.00 pre-registration, $20.00 day of (Limited to 25 people).
Call 314.865.5260 to register or register at Local Harvest Grocery (open 8-8 everyday).