It's beginning to feel like FALL—festivals and events every weekend and pumpkins, apples and squash on the shelves. This week we focus on the delectable but humble apple and the seasonal Oktoberfest Brews.  Yep, the season is turning.
KNOW YOUR APPLES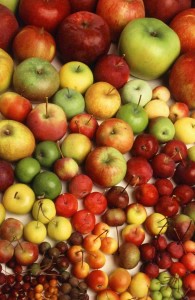 There are over 7000 apple varieties that were grown as recently as the 1800's. In the United States, a hearty 2,500 varieties can be found though only about 100 are grown for commercial purposes. With all those apples, it's surprising that the Crabapple is the only native North American apple tree. Of the 100 apple varieties grown, 15 comprise 90% of total production: Red Delicious, Gala, Golden Delicious, Granny Smith, and Fuji lead the way. As the season progresses we look forward to more varieties including the Arkansas Black, Empire and Winesap.
Varieties currently at LHG include:
Jonathans (From Vesterbrook Farms, Certified Naturaly Grown)  A sweet apple that is perfect for snacking and does well baked.
Gala (from Blue Heron-Certified Organic) Sweet and Crisp, these are great for eating and good for pies, sauces and baking
Golden Supreme (From Schwartz Orchard) A moderately crisp apple that is juicy to very juicy. The flavor is sweet to mildly sweet.
Granny Smith (organic): These are among the tartest of common apples and very crisp. Granny Smiths are excellent for pies.
A quick recipe for Baked Apple Slices. Wonderful on top of pancakes, stuffed in French toast or layered on Serendipity's Tahitian Vanilla or Cinnamon Ice Cream.
http://www.tasteofhome.com/recipes/baked-apple-slices
Oktoberfest Beers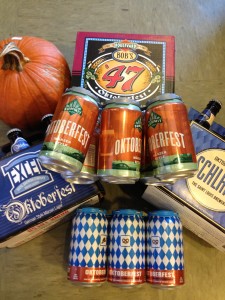 Thanks Schlafly for this mini-history of Oktoberfest:
Märzen, or Oktoberfest, has its origins in Bavaria, most likely before the 16th century.  For public safety and brewing quality concerns, the Bavarian Brauordnung was decreed in 1539, stating that beer could only be brewed from September 29th (Saint Michael) to April 23rd (Saint George).  Over the summer months, beers were stored, or lagered, in caves and stone cellars.  The evolution of Oktoberfest came from the last brews of the year, in March (or Märzen), as these beers would be ready to drink for the Bavarian celebration, "Oktoberfest".
AT LOCAL HARVEST GROCERY
Excel Brewing Company, Breese, IL
"Shoal Creek Oktoberfest has a flavor that is of balanced malty smoothness, low hop bitterness and a soft dryness from a long maturation. Shoal Creek Oktoberfest has a white foamy head with a reddish body that will make your Autumn celebration special."
Schlafly, St. Louis, MO
Schlafly's "Oktoberfest is a traditional Bavarian Märzen with a toasty malt aroma and slight caramel taste.  This rich, amber lager is balanced by the use of German noble hops, while the lager yeast ferments cold and slow, creating a smooth, crisp beer."
Santa Fe Brewing Company, Santa Fe, NM 
"Though it is not necessary to drink this beer out of a mug that is larger than your head while dancing to polka music and wearing your lederhosen, you will find this lager's unbridled festivity difficult to resist. This ode to Germany's classic fall lagers is as clean, clear, and quaffable as any that has ever weighed down the table of a German Beer garden. The crisp maltiness of classic Munich malt compounded with the delicious notes of Bavarian hops gives this clean-finishing beer just the right flavor for the end of the summer."
Summit, St Paul, MN  
"Brewed in the classic Märzen style with Northern Brewer hops from Germany. Rich, toffee malt flavors up front with a clean hop finish as crisp as the autumn air."
Boulevard Bobs 47, Kansas City, MO
"Bob's '47 Oktoberfest is a medium-bodied, dark amber brew with a malty flavor and well-balanced hop character. With this Munich-style lager Boulevard salutes Bob Werkowitch, Master Brewer and graduate of the U.S. Brewer's Academy, 1947."
CLASSES and EVENTS
Below please find our next two classes and events and a link to our website listing all of our classes and events.  To register for a class call 314.865.5260 or register in Local Harvest Grocery.   http://localharvestgrocery.com/lhg/classes/
Dyeing for Fun: A ReMake Happy Hour Presented by Perennial (perennial.org) October 3, 6:00-8:00p.m., $35.00 Location: LHC, 3137 Morgan Ford Road, 63116 Learn how to dye and print on fabric using natural materials you can find outside or inside your pantry! Participants will learn to naturally dye fabrics using turmeric, a yellow spice, and walnut hulls. Plus, you'll explore simple techniques to print new designs and patterns with eco-friendly milk paint and a red wine concentrate, transforming old linens into handmade masterpieces. It's culinary printing at its best! Leave with a set of handkerchiefs and enjoy some vino and snacks with your best pals.
Geisert Farms Dinner and Farm Tour October 4, 5-9p.m., $30.00 per person (Adults only) Location: Geisert Farms in Washington, MO (45 minute drive) This event promises to be super fun. Guests will get a guided hayride tour of Todd's hog farm. Afterwards, dine on Todd's "fine swine" accompanied by dishes from LHC and all enjoyed in the great outdoors with live music, a bonfire and local beer.  Todd is excited to give tours of the farm and showcase his family's commitment to sustainable hog farming.  (RAIN DATE, Oct. 5, 4-8 p.m)