EASTER
Easter Hams from Geisert Farms, $7.99lb.  We are taking pre-orders for ½ and whole boneless hams for Easter.
Leg of Lamb Pre-order your leg of lamb, $13.99lb.
Call 314.865.5260 to reserve yours.
ST. PATRICK'S DAY
We are stocked up with our very own Corned Beef made with 100% grass-fed local beef. Find it in our Grab N Go.
MISSOURI WINES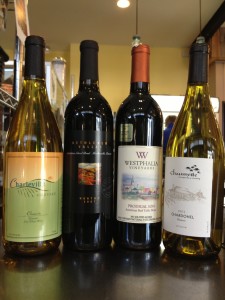 Check out our selection of local wines. You'll find wines from these fine Missouri vineyards and winemakers:
Bethlehem Valley These wines hail from Marthasville in the Missouri River Valley and from the Norton and Chardonel grapes grown on the slopes of this beautiful farm.  Try the NORTON 2007. This wine boasts an intense and concentrated flavor with notes of hickory and plums. Great with grilled meats.
Charleville Vineyards Located near St. Genevieve, MO this winery features a bed and breakfast and brewery!  Try the CHAUVIN for a dry, light  white wine made from Chardonel Grapes. Perfect to pair with cheese or light meal.
Chaumette  This beautiful vineyard with villas features wines that showcase the Norton (A Missouri State grape), Chardonel (A Chardonnay hybrid) and other French-American Hybids like Chambourcin and Vignoles.  Try the CHARDONEL RESERVE  which is perfect for spring—aged in French oak barrels, this wine has a creamy mouth feel with aromas of peach and citrus.
Westphalia Vineyards  Located in Westphalia, MO, their wines have no added sulfites.  We carry a large variety of their wines including PRODIGAL SON an American Red Table wine featuring Cabernet Franc and Norton grapes.  This wine combines the raspberry notes of Cab with the bold berry  and coffee flavors of the Norton.
LOCAL Grass-Fed Cow's Milk, Goat Milk, Yogurt and Raw Milk Cheese
We are excited to welcome OLD WORLD CREAMERY from Arcola, IL to Local Harvest Grocery.  The milk is non-homogenized and low-vat pasteurized.
1/2 Gallon Jugs of Whole-Milk
12oz bottles
12oz full-fat pourable yogurt (flavored with berries)
12oz bottles of Goat Milk   The goats are pastured and their diet is 60% grass with a grain supplement.
Raw Milk Cheddar and Raw Milk Gouda
 
CLASSES
To Register call 314.865.5260 or register in store. Payment must be made at time of registration to hold your spot. Gift Certificates may be used for classes.
https://squareup.com/market/local-harvest  
Beginning Beekeeping
Presented by Jane Sueme (of Isabees's Beekeeping Supplies) and Scott Klein
March 23 and March 30, 6:30-9:00 p.m. both nights, $75.00 for the two-night series
Price includes "Honey Bee Hobbyist, The Care and Keeping of Bees" by Norman Gary, PhD
Location: LHC, 3137 Morgan Ford Road, 63116
Ready to raise your own bees or want to see if this is for you?  This two-night class that will cover:
Honeybee biology and behavior
Site selection for your hives
Equipment
Installation of package bees
Seasonal hive management
Disease and pest identification and treatment
Harvesting honey, wax, pollen and bees