KNOW YOUR WINE
SAUVIGNON BLANC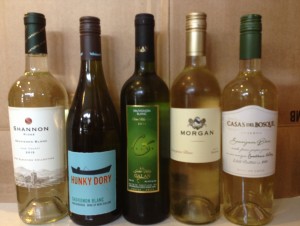 Sauvignon Blancs are the perfect wine for summer or as an aperitif. Sauvignon Blanc is most famous as the grape responsible for Sancerre and Pouilly-Fume, two of the most popular and energizing white wines of France.  Sauvignon Blancs are usually fermented in stainless steel tanks to retain the clean and bright qualities of this wine.  Some California producers (this grape grows well in California) have introduced oak barrels, but they remain less popular.
These wines are known for their grassy notes and New Zealanders often describe flavors of gooseberries which aren't as well know in the U.S. Sauvignons are refreshing wines and a perfect wine to drink as we say goodbye to summer.
Food Pairing:
Perfect as an aperitif and with lighter dishes like salads, risottos, chicken and fish.
Sauvignons at Local Harvest:
Shannon Ridge, 2013 (Certified California Sustainable Vineyard) http://www.shannonridge.com/ranch/farming This California Sauvignon is a great buy at $10.69. Fermented in steel barrels, this wine is clear and crisp and will have you wishing that summer would last forever.
Hunky Dory, New Zealand This wine offers tropical fruit notes packed with lime and gooseberry flavors.  It has a full flavored lingering finish.  $15.49
Galan, Chile 2013  Smooth and crisp with notes of apple.  $9.69
Morgan 2012  This Monterrey, CA wine is comprised of a proprietary blend of classic Sauvignon Blanc, Sauvignon Musqué, Semillon, and Albarino. It has a 6 month visit to oak barrels for aging after fermentation in steel tanks.  The oak aging lightly accents the bright acidity and adds a creamier texture. $12.89
Casas del Bosque, Chile 2011 ReservaThis beautiful pale straw color wine has a crisp palate with nose of kiwi, pineapple and fresh cut grass.  $13.89
EASY VEGAN (can be GF and SugarFree) COOKIE
My Mother-in-Law recently visited and she and my father-in-law adopted a vegan diet a little over a year ago.  During her stay she made several batches of these cookies and we gobbled them up. These could be Gluten-Free by using GF-oats. Great way to use up all those ripe bananas.
Sweet and Simple Cookies
3 mashed ripe bananas
1/3 c. applesauce (Santa Cruz Organic is great)
2 c. oats
¼ c. almond milk
2 tsp sugar or 1 pkt. Stevia (small packets)
½ cup raisins or chocolate chips (Enjoy Life are semi-sweet and dairy, nut and soy free)
1 tsp. vanilla
1 tsp. cinnamon
Mix all together and spoon out onto a lightly oiled cookie sheet. Bake at 350 degrees for 25-30 min. Makes about 18.
PRODUCE STORAGE TIPS             
Storing your produce properly will help you keep food waste to a minimum. Here are some tips compiled by Becca, our Weekly Harvest Coordinator.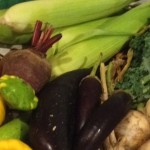 | | | | |
| --- | --- | --- | --- |
| Beets | don't rinse until ready to eat, remove greens (they're edible!) and store them separately | bags in fridge | greens 2-3 days, roots 2-3 weeks |
| Bell Peppers and other peppers | don't rinse until ready to eat, storing wet reduces shelf life | loose in fridge (will keep on counter for a few days) | 4-5 days |
| Blueberries | don't rinse until ready to eat, rinsing removes a natural preservative "bloom" | in container in fridge | 1 week |
| Cabbage | don't rinse until ready to eat, don't store wet | wrapped in plastic or tightly sealed container, keep partially used cabbage tightly wrapped | 1-2 weeks |
| Cantaloupe | don't rinse until ready to eat | in pantry if under ripe, fridge once ripe | 1 week in fridge |
| Carrots with tops | remove greens, rinse before using | in plastic bag or container in fridge | up to 3 weeks |
| Cherry Tomatoes | don't rinse until ready to eat | on counter, no bags, refrigerating compromises taste and texture | 3-5 days |
| Cucumber | don't rinse until ready to eat, don't store wet | can be left out on counter for a few days, otherwise refrigerate for longer life | 3-4 days on counter, 4-5 in fridge |
| Kale | rinse and remove any ties or rubber bands before storing | in a bag in crisper drawer of fridge | 1-2 weeks |
| Garlic | no rinsing | room temperature, keep cool and dry in pantry | whole heads up to 5 months, loose unpeeled cloves 7-10 days |
| Green Beans | rinse before using, don't store wet | in container or bag in fridge | 3-5 days |
| Heirloom Tomatoes | don't rinse until ready to eat | on counter, no bags, refrigerating compromises taste and texture | 3-5 days |
| Leeks | don't rinse until ready to eat, when ready to clean cut in half lengthwise and soak to remove debris between layers | in plastic bag in fridge | 5-7 days |
| Onions | don't peel or rinse until ready to use | in cool pantry or fridge, don't store near potatoes- they'll both spoil faster | 2-3 months |
| Organic Slicing Tomatoes | don't rinse until ready to eat | on counter, no bags, refrigerating compromises taste and texture | 3-5 days |
| Potatoes | don't scrub or rinse until ready to eat, don't store wet | room temperature for shorter storage, root cellar or basement (45-55 deg) for longer, refrigeration is not recommended. Don't' store near onions- they'll both spoil faster | 1-2 weeks room temperature, 2-3 months basement |
| Sweet Banana Peppers | don't rinse until ready to eat, storing wet reduces shelf life | loose in fridge | 4-5 days |
| Zucchini | don't rinse until ready to eat | on counter or pantry, does not need to be refrigerated but can be for longer life | 5-7 days |